Without a solid QA review system in place, each application you release will likely distract your team from concentrating fully on the next one.

In a real factory, nobody would expect those who assembled the product to also inspect it. Nor would the customer to be happy in the role of reporting defects. Why should your application development process be any different?
⇒

Voice
Vocal work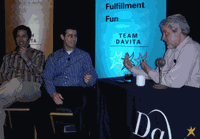 While I do a lot of programming work now, my college certificate was for Electronic Communications (broadcasting).
I took paid announcing positions at radio stations KDUO, KFXM and KNTF in Southern California. I also did some copy writing and segment production.
I still do occasional voice work - for small institutional, educational or entertainment projects. I'm also a ham.
Here are some examples: