You get messages about the status of your domain name, or threats about its future. Some are real and others are fake.
⇒

Voice
Vocal work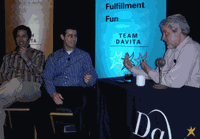 While I do a lot of programming work now, my college certificate was for Electronic Communications (broadcasting).
I took paid announcing positions at radio stations KDUO, KFXM and KNTF in Southern California. I also did some copy writing and segment production.
I still do occasional voice work - for small institutional, educational or entertainment projects. I'm also a ham.
Here are some examples: