Without a solid QA review system in place, each application you release will likely distract your team from concentrating fully on the next one.

In a real factory, nobody would expect those who assembled the product to also inspect it. Nor would the customer to be happy in the role of reporting defects. Why should your application development process be any different?
⇒

Voice
No Smoking. Turn Off Your Pagers?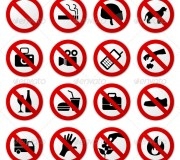 Most all theatres have some pre-curtian announcement of house policies; which include reminders to silence your phone or pager. Does anyone even have a pager anymore?
This meandering announcement-turned-rant was recorded for The Next Stage Theatre.
Listen to announcement